WHY CHOOSE US?
Our office is dedicated to your heath and believe that your dental health affects your overall well being and is why we recommend regular dental checkups.
CEREC to the Rescue to Provide Same-Day Dentistry
Our patients benefit from single-visit restorations including crowns, inlays & onlays, white fillings and veneers using a very high-tech piece of dental equipment called CEREC.

CEREC stands for CEramic REConstruction and represents a process where we digitally scan the area of your mouth where the dental restoration will be placed, designing a replacement restoration right there, and finally milling the final restoration during the same appointment.

Our patients don't have to walk around with bulky and uncomfortable temporary crowns and won't have to come back for a second appointment for the final fitment and placement of the dental restoration. If you are in need of a dental restoration, chances are CEREC can provide it in just one visit. We invite you to call our dental office at858-455-7777 (La Jolla) or 619-482-5555 (Chula Vista)or 619-441-8000 (El Cajon) or request an appointment online and let us answer that question right then and there!
Single Visit Restorations Via CEREC
How CEREC Works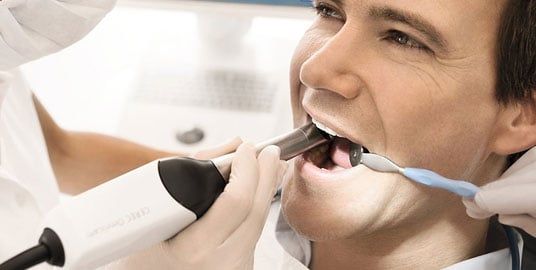 We use a highly-sensitive precision wand to digitally scan the section of your mouth where a dental restoration will be placed. As the wand scans the area, it builds a virtual model of your mouth on a screen right in front of your eyes. You and Dr. Hayatt can fine-tune the area until the virtual model represents your mouth exactly.
Once the digital model of the dental restoration area have been finished, Dr. Hayatt will digitally design a restoration right there on the screen. It will be designed to be fully functional and fit exactly in the area where it needs to be place.
From there, this digital restoration will be sent to a milling machine where a color-matched block of porcelain will be precisely milled into the final restoration. This restoration is NOT a temporary, but rather the same restoration we expect to receive from a dental lab.
The final restoration is test-fitted to the area and any final adjustments are made before securely bonding the restoration to the tooth. You will walk out of our office wearing the final restoration in a single dental visit.
Single appointment dentistry is not too good to be true! Call us at 619-482-5555 or request an appointment to see what CEREC can do for your specific situation.
Are CEREC Restorations Expensive?
CEREC restorations are the quickest way today to receive a final dental restoration. Because of their "single-visit" nature, they are typically associated as a high-cost dental service. This is not always true and in many cases, a CEREC restoration costs about the same as a traditional restoration.
In any case, a same-day dental restoration is easily affordable at Life Smiles Dental Care. We are a proud CareCredit provider which means your dental restoration can be financed in most cases with no interest rate for a set financing term.
Still Have Questions?
Request an appointment and get set up to come in and talk more with Dr. Hayatt regarding your specific needs and wants. No question is ever off limits so what are you waiting for?